5-Day Residential Rain Warranty!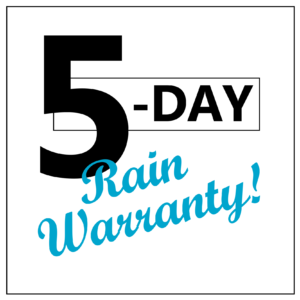 Rain in the forecast?  No worries!  We've got you covered.  We offer a 5-day Rain Warranty on all of our Residential Window Cleaning Services.
How does it work?
If inclement weather rears it's ugly head after your windows were brought to a sparkling shine, you need not fear.   If weather is responsible for dirtying up the glass after your appointment, we will happily return to touch up any affected windows at no charge to you. This gives you peace of mind when your window cleaning scheduled but rain is in the forecast.
It's bound to happen living in Oklahoma, where pop-up storms are the word of the day.  In our experience, we have found that only a blowing storm, perhaps when it's been really dry in past weeks, will negatively affect recently cleaned windows.  It does occasionally happen, and for those occasions, at least you know that your investment is protected if you've chosen All Star Window Cleaning LLC to do the job. That's only one of the reason's we are Tulsa's ONLY Worry-Free Window Cleaning Service!
For more information about how we protect our customers, please visit the Residential page our our website.
We're alway happy to answer any of your questions about our service.  Ready to schedule your appointment?
You can call or text 918.527.1390.  Or if you prefer to email, you can reach us at this address:  allstartulsa@gmail.com